HealthQuest Northeast Connecticut
We put the "unity" in "community".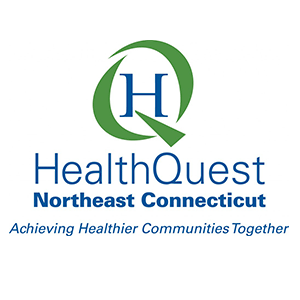 HealthQuest Northeast Connecticut is a regional health and wellness partnership working to make northeastern Connecticut a healthier place to live, work, learn, and play. The coalition, formed in 2007, is coordinated by the Northeast District Department of Health and meets quarterly from 7:30 am to 9:30 am via an online platform or at NDDH as conditions allow.
2022 – 2023 meeting dates are Wednesdays:
October 26, 2022
January 25, 2023
April 26, 2023
July 26, 2023
October 25, 2023
Additional meetings are held as needed.
Leadership Team Partners include:
Blaze a Trail Toward Health and Wellness!
Click on the play button above to hear NDDH's CT Trails Day radio ad airing on WINY!
Health Prevails on the Trails!
Get a leg up on what ails you by putting one foot in front of the other. Walking works to reduce anxiety, stress, depression, and fatigue. It increases energy, improves your mood and sleep quality…and reduces the risk of chronic illness. Your HealthQuest Northeast CT partners have great ideas to get you moving. Discover the many opportunities the National Heritage Corridor offers to walk the walk and step into a healthy lifestyle.
HQ's ConNECTicuTRAILS Project

HealthQuest partners are working together to create and improve places for physical activity. We are:
Closing gaps on the Airline Trail
Connecting efforts to state-wide initiatives
Increasing awareness and accessibility of multi-use trails
Working with local health care providers to write "prescriptions" for walking and trails use.

Your prescription for better health is right outside your door

.
Improving access for people living in "trail deserts" by encouraging regional transit to include transportation options to local trail heads
This important work is grant funded by the Connecticut Department of Public Health.
Want to learn more about trails in Connecticut? The most popular? Secret hidden gems?
Discover the CT Trail Finder, a new, one-stop, growing web resource that provides easy, fast, and centralized access to maps and reliable information about Connecticut's terrific trails! CT Trail Finder and the CT Trail Census are developed and administered by the UConn Cooperative Extension. HealthQuest is partnering with the CT Trail Finder to populate their new interactive site with hundreds of miles of trails in the National Heritage Corridor. Check their site often for updates!
Put a Spring in your Step – Explore the National Heritage Corridor!
Our HealthQuest friends at The Last Green Valley invite you to walk, hike, bike, and paddle your way through the seasons with popular programs like their annual Spring Outdoors, Walktober events, and their amazing online EXPLORE Guide. The physical, emotional, and mental health benefits of being physically active will amaze you as much as the scenic beauty of the places we call home.
Celebrating 10 Years of The Follow the Fifty: Models of Heart Health Campaign
To promote The Heart Truth ® Community Action Program, HealthQuest launched a community counter-attack against heart disease – the number one killer of women. The program kicked off in February 2012 and 130 women in northeastern Connecticut became (role) models of heart health…achieving heart healthy lifestyles by improving their blood pressure, cholesterol, and blood sugar. This high-profile, high-energy initiative captured the hearts of our communities as well and produced countless stories of inspiration. The campaign earned national attention and was featured at The Heart Truth's Red Dress Collection 2013 Fashion Show in New York City on February 6, 2013.
Do you still have the heart to be a trail-blazing role model of health and wellness?
Get re-connected, re-inspired, and re-energized to reclaim your heart health with our new ConNECTicuTRAILS project.
Thanks to all those who joined us for a heart-warming hike down memory lane at the Follow the Fifty ReZOOMion sessions held in March.
Take up our call to action to get motivated to move again by learning about our new northeast CT trails initiative – and how to connect to beautiful places that promote physical activity. Discover the CT Trail Finder project and The Last Green Valley website to see how easy it is to connect to the great outdoors and get back to feeling your best.
Rediscover those muscles we toned 10 years ago! Do a dynamic warmup before starting any walk or exercise.
Visit our calendar of community physical activity events where you can re-connect with the sisterhood and your healthy heart.
The 10th Year Anniversary of Follow the Fifty is:
Meant to acknowledge and honor our collective efforts 10 years later and let the re-connections grow organically. The only "structure" is that some HealthQuest partners will host walks or other physical activity events through the year…and we hope you will join us!
An opportunity to re-connect with former FTF models, coaches, and community partners as a way to get re-inspired to make your health a priority.
A chance to role-model others and again transform our communities by having a shared vision of better health.
A way to get a leg up and step out from two years of COVID by putting one foot in front of the other. Walking improves physical, mental, and emotional health.
A chance to discover the physical beauty of Northeast CT that beckons you to be active – we have over 500 miles of trails to explore!
When is Your 10? Walking Campaign
We're off…and walking! It doesn't get any easier than HealthQuest's When is Your 10? campaign – just go for a 10 minute walk each day. Morning, afternoon, evening…anytime! Here'es how you can move right along with us:
Take the kids, your parents, you friends, your colleagues, or your dogs and go for a 10 minute walk each day. Try to build up to three times a day
Plan friendly walking challenges with others
Encourage employees and students to walk during breaks and recess
Like the HealthQuest Northeast CT Facebook page to learn more about the many ways HealthQuest partners, schools, businesses, town leaders, students and citizens are walking the walk
When you're ready for more than a 10-minute walk, check The Last Green Valley's Spring Outdoors calendar for hundreds of walks
When Is Your 10? also memorializes the dear HealthQuest partner we had in national walking expert Robert Sweetgall, who inspired millions of people across the United States to take up the lifelong health benefits of walking by starting with just 10 minutes a day.
Put your best foot forward and take a 10-minute walk toward wellness!
Smoke-Free / Tobacco-Free Campus
HealthQuest Leadership Team partners NDDH, Day Kimball Healthcare (with 1200+ employees), Generations Family Health Center, QVCC, and TEEG have all implemented and/or expanded smoke-free/tobacco-free policies for their organizations. Also, the towns of Putnam and Killingly have adopted smoke-free parks and outdoor spaces campaigns.
The WriteSteps School Walking Initiative
A 10 minute start-the-school-day-with-a walk-program. To maintain instructional time, students discuss an academic topic while on the walk and journal upon return to the classroom. The campaign has been introduced to more than 6,500 students in 13 area schools.
The Dr. Robert R. Johnston Community Garden in Putnam
A 150' x 150' community garden located at 41 Smith Street in Putnam and the home of "Hamelton" the Cabbage. Ground-breaking took place on June 21, 2012.
TEEG Community Garden and Mobile Raised Garden Bed Campaign
TEEG broke ground on a community garden in June, 2013. HQ collaborated with TEEG's Youth Advisory Board and Tourtellotte Memorial High School technical education students to design, build, and place "portable" gardens at area senior centers, day care centers, businesses, and other community sites.
Day Kimball Healthcare's Baby Friendly Hospital Initiative
This initiative is a global program sponsored by the World Health Organization (WHO) and the United Nations Children's Fund (UNICEF) to encourage and recognize hospitals and birthing centers that offer an optimal level of care for infant feeding.
Worksite Wellness Toolkit
An online worksite wellness toolkit developed by the NE CT Chamber of Commerce is available here.
Putnam Rivertrail "Storywalk"
An interactive story path for children and families that promotes walking and reading along a nearly one-mile stretch of the Putnam Rivertrail.
Community-Clinical Linkages Initiative
This campaign is designed to connect patients, physicians and other clinical partners with community resources to help individuals better manage their chronic conditions. The Follow the Fifty Campaign was a prime example of a Community-Clinical linkage.
HealthQuest has been grant-funded by the Centers for Disease Control and Prevention through a National Association of Chronic Disease Directors ACHIEVE grant and the State of CT Department of Public Health Community Transformation Grant. These initiatives prevent chronic disease and improve health by implementing healthier policies related to tobacco-free living, increased physical activity, access to better nutrition, and expanding clinical and community preventive services.